Storm Damage In Yonkers, New York Destroys Residential Home
1/6/2022 (Permalink)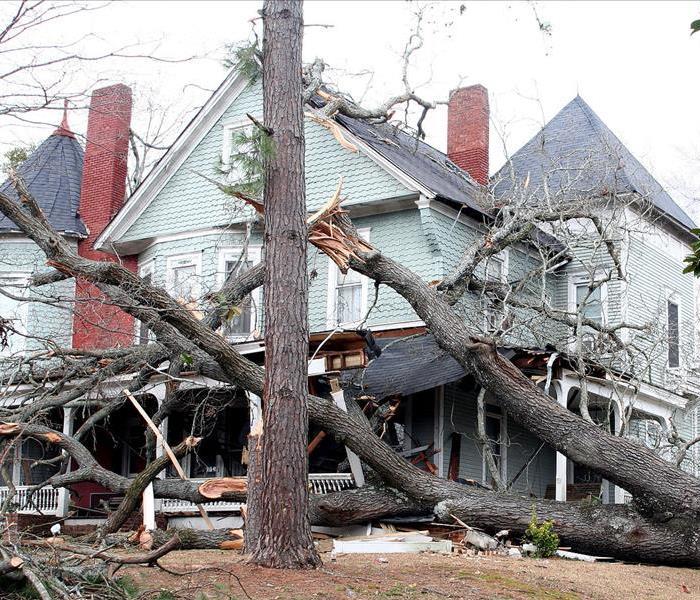 When you have storm damage in your home, call SERVPRO of Yonkers North for fast professional service!
A powerful storm ripped through Yonkers, New York, destroying a residential home. Witnesses of the storm state that it only lasted for a few minutes but left a trail of destruction.
Shattering glass, uprooted trees, falling power lines, and a barrage of flying debris were just some of the damage that resulted from a powerful storm that ripped through Yonkers, New York. The storm resulted from a weak weather system that was already in place across New York state. Despite the dangerous circumstances, the storm remained mostly a rain event across the area.
The storm damage In Yonkers, New York, left a middle-aged woman helpless. It caused major damage to lawns and left her house without power.
The storm led to water damage in the home and fried all electrical components. To clean up the storm debris and fix the damages, she called SERVPRO of Yonkers North. They are one of the most responsive and trusted cleaning companies in the area.
SERVPRO storm response team responded quickly as they donned their gear and ran outside to help. The SERVPRO team is equipped with all the necessary materials for any disaster or mess. They started raking up the debris from the yard first because it was scattered everywhere and contained sharp objects.
They removed all the furniture and belongings from the house and placed them in storage while the water cleanup took place. After cleaning up all of the water, they proceeded with a structural assessment. There were also structural problems caused by the storm damage In Yonkers, New York, that need to be addressed. If you are dealing with a major storm, you will most likely need the services of a professional to assess your property.
SERVPRO provided mold remediation services to contain and clean up any mold growth inside the home. The team also helped her with her insurance claim process by documenting the damages done by the storm and helping her file a claim with her insurance company so she could start rebuilding her life.
The technicians that responded to her basement were able to restore it safely and ensured that the water was properly cleaned from the carpet and walls. The team knew that the cleanup would take a while, so they got to work immediately. They slowly and carefully removed the water from the basement and set up fans to speed up the drying. They also set up a tarp over some of the rooms so water could not penetrate through the roof. The team went above and beyond and even cleaned the walls and ceiling!
They were extremely professional, fast, and provided a great work ethic. They are very knowledgeable in repairing storm damage in Yonkers, New York, and will do everything possible to help you out.
They also dried out all of her belongings damaged by the floodwaters. Then they cleaned all of her walls, baseboards, ceiling fans, window blinds, and door frames with SERVPRO's cleaning solutions to remove any remaining odors or mildew from the floodwaters.
They went on to replace damaged parts in the home. Typically, if any parts of the house were damaged during the storm, you'll need to replace them as soon as possible. The SERVPRO team replaced drywall, repaired floors, and even replaced doors and windows that cracked or broke during the storm.
After the storm damage restoration, the team returned to her home after a few days to ensure everything was properly working before leaving for good.
Storm damage in Yonkers, New York, can happen quickly, but fortunately, you can prepare for them before they strike your property. Call SERVPRO today if you need assistance with your next restoration project or have questions about mold cleanup in your home.